CLICK TO CALL

MAP IT
Richmond Hill Dental Implants - The Look and Feel of Natural Teeth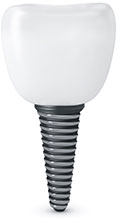 The loss of one or more teeth can have a major impact on the function and shape of your mouth and the appearance of your smile. Implants are a practical solution to replacing missing teeth and restoring function and appearance.
Missing teeth can result in the change in the shape of your mouth and the look of your facial symmetry. Gaps in your teeth can impair your ability to eat certain foods and contribute the further loss and degeneration of remaining teeth in your mouth.
A dental implant is made from titanium. It can be used to replace one or multiple missing teeth. Denture patients can also benefit from this service as implants are a great alternative to loose poor fitting dentures that can result in embarrassing situations.
Implants bond to the jaw, much like the root of a natural tooth and permanently replace a lost tooth. They are gently placed during a simple surgical procedure done under local anesthetic.
To learn more about dental implants, call us today at 905-883-8893.